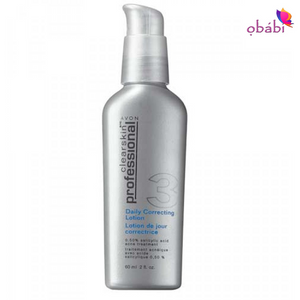 Avon Clearskin Professional Daily Correcting Lotion
The third step in your daily acne-fighting routine! This multi-tasking treatment lotion is designed to treat every stage of your blemish from start to finish. It visibly minimizes pores and controls oil for a shine-free finish. It's also formulated to help even out discoloration after the blemish clears. 2 fl. oz. 60ml.
BENEFITS
• Clears up acne blemishes and acne pimples
• Reduces the number of acne blemishes and acne pimples
• Helps prevent the development of new acne blemishes and acne pimples
• Oil-free 
• Non-comedogenic 
• Dermatologist tested
TO USE
• Cleanse skin thoroughly before applying medication. Cover the entire affected area with a thin layer one to three times daily. 
• Because excessive drying of the skin may occur, start with one application daily, then gradually increase to two to three times daily if needed or as directed by a doctor. 
---
We Also Recommend